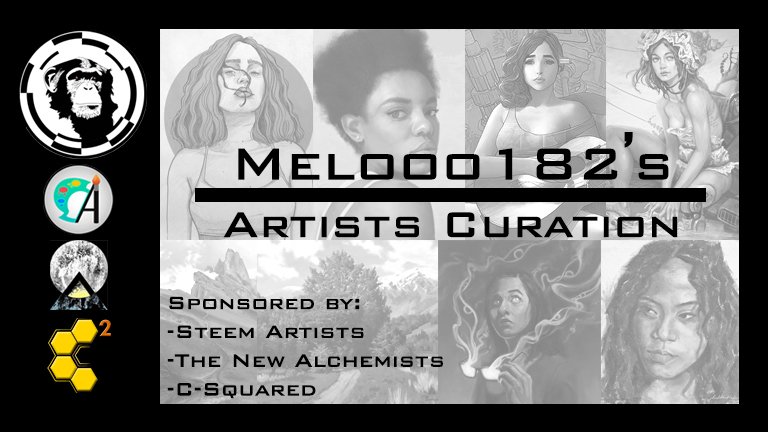 Greetings fellow steemians!!!
---
So here we have again another selection… Nothing much to add from my part so lets go directly to the artists promotion.
If you like the post please consider resteeming to spread the word and increase notoriety ? TY.
?
---
CLARIFYING NOTICE: This post only promotes my TOP 10 favourite artworks posted on Steemit in the last week(s?) and haven't received the attention I think they deserve. I know there are way too many other good art being posted but I cannot put them all here, maybe other curators can make their own posts and cover more ground, that would be awesome.?
?
The Artists Curation Post will be done weekly and all the earned SBD will be shared in equal parts to the promoted artists, I get to keep the SP and STEEM as reward for the service.?
I will upvote the artworks promoted and randomly selected artist will win a
@steembasicincome
share

Week #28 TOP 10…
Swallows painted in oil
In an ashram in Varanasi – an oil painting
?Semimostie (7 bridges) in St. Petersburg
En las Montañas de la Locura (Concept Art)
Scene Illustration: Elven with the Dragon
Micro TDH portrait (own illustration)
Gator skull!!
♠ Eclipsa Butterfly ♠ – Star vs. the Forces of Evil
Female warrior (step by step).
Chibi Roses Are Red Speedpaint!
Other Awesome Art worth checking


Previous Curation Post
---
And now the randomly awarded @steembasicincome share
to one of the artists in the TOP 10 list.


This time's lucky winner is @adelair!
Congrats to him!!! ???
Additionally granted @normazaro a @steembasicincome share as well
Why @normazaro? well I chose her artwork as #1 of this collection because it was the one that appealed me most, so yeah hehe.

use my referral link and gain a bonus


Follow @steemartists and check out our Discord Channel.