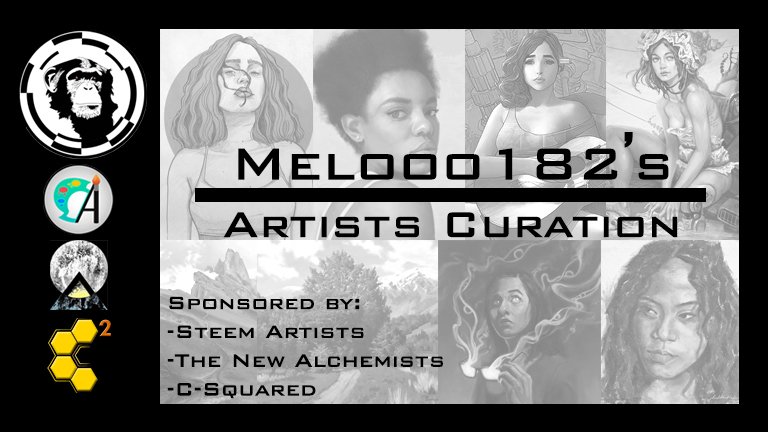 Greetings fellow steemians!!!
---
So here we have again another selection…so soon? yes as I said before I want to keep this as a Sunday weekly post although some times due to some circumstances it may get delayed some days in the week, there hasn't been much activity lately due of the post HF20 chaos which now seems to be giving way to a more stabilized steemit, voting power costs seemback to normal values so we can carry on with our blogs…
Lets continue with this week's curation, If you like the post please consider resteeming to spread the word and increase notoriety ? TY.
?
---
CLARIFYING NOTICE: This post only promotes my TOP 10 favourite artworks posted on Steemit in the last week(s?) and haven't received the attention I think they deserve. I know there are way too many other good art being posted but I cannot put them all here, maybe other curators can make their own posts and cover more ground, that would be awesome.?
?
The Artists Curation Post will be done weekly and all the earned SBD will be shared in equal parts to the promoted artists, I get to keep the SP and STEEM as reward for the service.?
I will upvote the artworks promoted and randomly selected artist will win a
@steembasicincome
share

Week #30 TOP 10…
SEDENTARISM. painting 2010
Morning Sketching – September 26
Catwoman and Luna
A day in the Yatch Club (II)
"Behind the mask" Artwork in progress
Character Design : Barbarian
'Visualising in Argentina' ?? Pencil Drawing/Travel
AI Cortana – Artificial Intelligence
Alice in the land of nightmares
My ArtVenture: Watercolor painting "At home by Inspector Barnaby"
Other Awesome Art worth checking


Previous Curation Post
Will update ASAP
---
And now the randomly awarded @steembasicincome share
to one of the artists in the TOP 10 list.


This time's lucky winner is @adelair!
Congrats to him!!! ???

use my referral link and gain a bonus


Follow @steemartists and check out our Discord Channel.