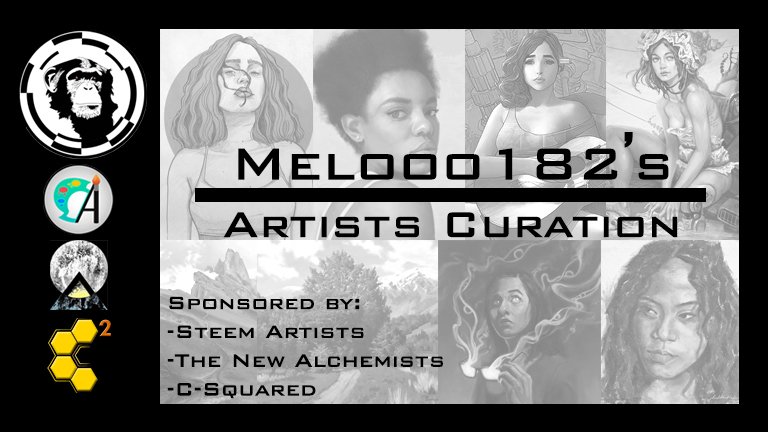 Greetings fellow steemians!!!
---
So here we have again another selection for another week… Third week experimenting with reinvesting past post gains to increase exposure and revenue…I is sad because steem price sunk just now lowering the gains of this post, dunno if just are my post but everything seems like a lot less active lately…meh anyway I said I keep continuing with this experiment for 2 more weeks so let's how it goes this one.
Lets continue with this week's curation, If you like the post please consider resteeming to spread the word and increase notoriety ? TY.
?
---
CLARIFYING NOTICE: This post only promotes my TOP 10 favourite artworks and haven't received the attention I think they deserve. I know there are way too many other good art being posted but I cannot put them all here.?
?
The Artists Curation Post will be done weekly and the earnings will be used to invest in ways of improving my curation capabilities, hopefully making it sustainable and even improving the continued promotion and curation of artworks. ?

Week #33 TOP 10…
Drawing. Redhead Girl.
How I paint comics: The Techno Templar #42
Day 12 . Vampire .
Heterochromia iridum – Grafito y color – ART EXPLOSION WEEK 49: Theme MUTATIONS
Art 155: Drawing a Pretty Girl using Colored Pencils
Orctober 2018 – Day10
❤ My sweet pastel girl ❤|#Pastelgirlchallenge Expience + Full process
Rare cars #1: General Patton's Jeep
INKTOBER DAY 1: POISONOUS
Multicolour portrait of a beautiful girl.
Other Awesome Art worth checking


Previous Curation Post
---

Check my other recent post:
? Artposting ? / ??? Inktober – MOAR Cyberpunk ?


? Artposting ? / ??? Inktober – Akira Scene re-imagined ?


? Urban Sketchers Medellín #9 ? ? – Parque la Floresta


Join our Discord Channel and network with other artists to help each other grow.