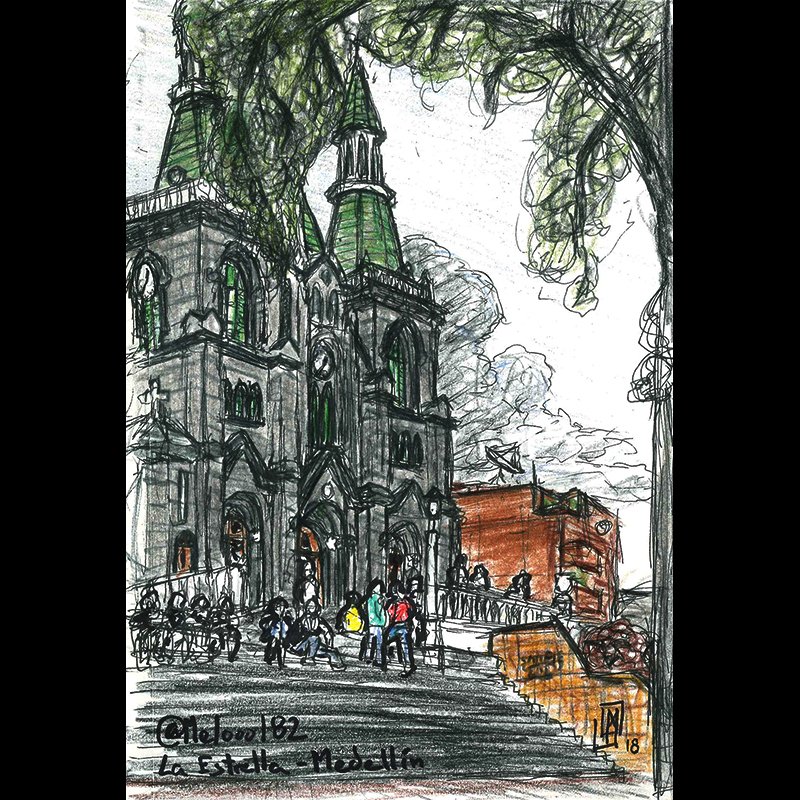 Hello Again!!! ?
This is my second go with the Urban Sketchers of Medellín, this time we went to the far South of Medellín's Metropolitan area, a town called La Estrella, very nice I liked it there although the entire afternoon looked like it would rain, good thing it didn't. This time I did pick carefully what I would draw and wandered for a while looking for the angle of the church that appealed me the most, finally I found a spot where to sit and began drawing ?
Here is the photo of the Urban Sketchers group that day ?

They're very cool people, I befriended some of them this time ?
Oh and here is the usual photo of all our drawings from that day

I think these are not all of them but well, I didn't take those photos hehe
I'm really liking this activity, you get to met cool people with similar interests ?
---
Here a google street view, roughly from the same angle I drew the church

click for actual google street view
And the Drawing again for comparation

Click Image to see full sizeI hope you liked my post and urban sketch ?
Let me know what you think in the comments bellow ?
Have a great week people ???

use my referral link and gain a bonus


Follow @steemartists and check out our Discord Channel.