The June 1st showdown between the 29-year-old Briton, Anthony 'AJ' Joshua and the 30-year-old American, Jarrell 'Big Baby' Miller draws ever closer, and thus the customary press conferences and the usual antics and mind games from the boxers had already begun with a bang.
I am never a fan of mind/psychological games, for me, it feels like boasting, haughty or pride, and like the old wise saying;
pride goes before a fall
How hard can it be, to go into the press conference, show respect for your opponent, the AJ style and let the fight's outcome or result speak for you, just like it has been speaking for AJ, and, how ridiculous can it get, after one makes so much noise and boasting, and then, end up losing. I will rather go for the former. Yes! Most will argue that mind games are good for the sport, it helps build the momentum, and also, a lot of games/bout are won even before stepping into the battlefield, as Iron Mike Tyson used to almost always match his pre-bout antics and mind games with results, and in contrary, a certain Dereck Chisora, who despite his pre-bout war call and antics against Dillian Whyte, lost twice.
The press conference between AJ and Big baby was held at the famous Madison Square Garden, New York, USA, and it was Jarrell Miller who drew the 1st blood if mind games count. The shorter 6ft 4in Miller pushed his taller 6ft 6in opponent, Joshua off balance during their meeting on Tuesday, causing a short-lived brawl, and now, with such hostility building, boxing fans are in for explosive warfare come June.
Miller's assault on Joshua did not end at the standoff, he further rained more insults on the current IBF, IBO, WBA & WBO champion, Joshua, saying amongst other things;
…He's lucky I didn't punch him in the face, but as I said, I ain't got no time to play games. I don't play boxing, this is what I do. Breathe, eat, sleep this c**p.
…He knows that I'm not playing. I don't care. I knock him out right now. I'm a warrior. I don't care about any of that.
…You've never seen anybody with mental fortitude like me, he said. No matter what he does, what he hit me with, how many punches he throws, he ain't going to beat me, he ain't going to stop me.
…I'm a walking monster. On June 1, I'm uniting the world.
Anthony Joshua who had never encounter such bullish act since probably the pre-bout press conference to 2016 Dillian Whyte bout, in his response to Miller's action said;
You can see Dillian Whyte – they are cut from the same cloth, I don't expect anything else from characters like those.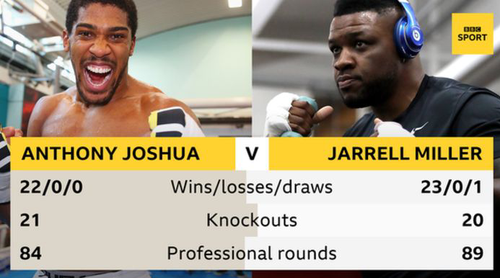 A quick look into Jarrell Miller stats as shown above, he is certainly not a pushover, AJ will definitely have is work cut out against his "Monstrous" opponent who has got as much win success in the ring as Joshua. Miller who also had a successful kickboxing career from 2006-2014, with 21 wins out of 23 fights, with just 2 losses will pose a great threat to Joshua's world titles.
Anthony Joshua needs no introduction, the British star status was rubber-stamped when he knocked out Wladimir Klitschko back in 2017 to add the WBA belt to the IBF title he won with a 2nd-round stoppage of Charles Martin in 2016. Though, boxing fans may be disappointed for his choice of Jarrell Miller, they have been hoping for a unification fight against WBC holder, Deontey Wilder, or a Tyson Fury fight or even a rematch against Dillian Whyte, AJ's prowess is never in doubt and his 100% win record as shown above is a testimony to that.
Boxing fans around the world eagerly await next episode of AJ-Big Babys mind games.
ps: images are BBCSports' and GettyImages'
Thank you all for taking the time out to check my blog.