The race for the top 4 finish is getting hotter, with Manchester City and Liverpool destined to occupy the top 2 places, Tottenham Hotspurs, Arsenal, Manchester United and Chelsea justle for the remaining 2 places. Earlier in the season, Spurs looked to have a firm grip on the 3rd place, and the 4th place was to be contested between Arsenal and Chelsea, but Ole Gunnar Solskjaer led Manchester United has remarkably recovered and thrown themselves back into the mix, plus Spur dip form has thrown the race all open again.
---
Tottenham Hotspur's Dip continues;
Spurs' firm grip on top 4 finish has gradually loosened, and now hangs on a tread, they now lead the chasing pack led by Arsenal with just a single point, and 3 points ahead of United in 5th place on the EPL log table, having lost to Southampton on Saturday.
Just like Harry Kane's return from injury was marred with a 1-2 defeat by Burnley at Turf Moor, his teammate, Dele Alli's return from an injury suffered a similar fate, as Spurs were defeated 2-1 by a struggling Southampton at St Mary Stadium.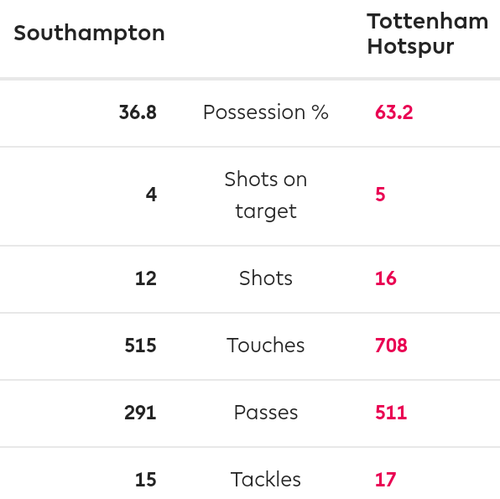 Tottenham Hotspur is in a poor run of results with just 1 point from a possible 9 of their last 3 matches, Spurs' last win was in early February when they defeated Leicester 3-1 without either of Kane or Alli. They started the match against Sutton in the best possible way, took the early ascendancy in the match, as shown above, Kane and Alli combined for the former to score a 26th-minute goal, but Spurs' defensive worry was highlighted again as they conceded an equalizer through Sutton's Yan Valery, Spurs 6th-goal conceded in the last 4 domestic matches. Just when it seemed the game will end in a draw, Sutton's James Ward-Prowse converted a delightful free-kick in the 81st minute to condemned Spurs to a 3rd defeats in 4 matches.
---
Chelsea Slipped Yet Again;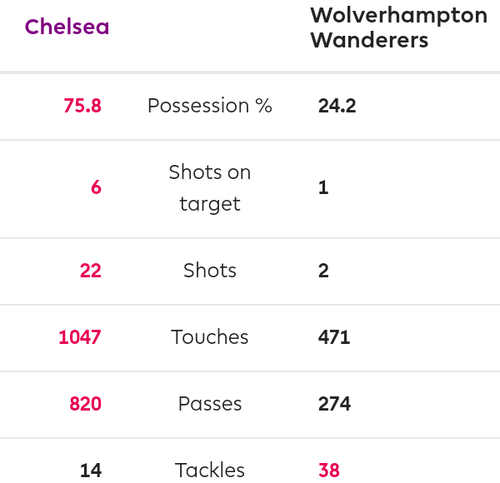 Chelsea was on the brink of another home loss before a sublime Eden Hazard 92nd-minute curler rescued a point for the Blues. The Blues picked up from the 0-6 mauling at the hand of Manchester City with back-to-back wins over London rivals, 2-0 over Spurs and a 2-1 triumph over Fulham respectively, but they come up against EPL boogie team, a team just below them on EPL log table, Wolverhampton, which has also seen a dip in form with just 1 win in their last 4 matches.
Chelsea dominated the proceedings at Stamford Bridge as shown in the stat above but was unable to a stubborn Wolves, Wolves sat back and defended resolutely against Chelsea and hit back on a swift counter-attack to take the lead through Raul Jimenez, after an interplay between Diogo Jota and Jimenez. Chelsea's Gonzalo Higuain, Pedro among others, did everything right but could not go past Wolves' goalkeeper, Rui Patricio, until the stoppage 92nd minute, Hazard found space and took his chance from outside the box. 1-1 it finished at the Bridge.
Chelsea remains in 6th position behind Manchester United in 5th, just 3 points behind 4th place Arsenal, with a game in hand.
Ole Gunnar Solskjaer's Unbeaten Gravy Train Halt Finally By Arsenal;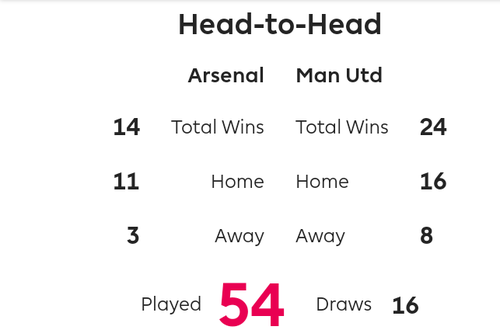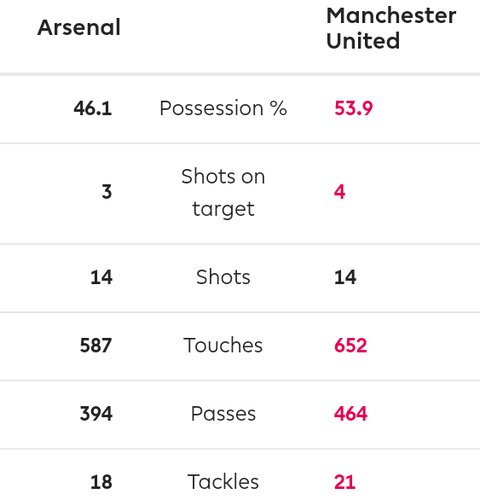 The biggest EPL match of the weekend was the tie between old rivals Arsenal and Manchester United at the Emirate Stadium, as Arsenal claimed the bragging rights over Manchester United, with a 2-0 home win. A win that put an end to United caretaker manager, Ole Gunnar Solskjaer's domestic 12-match unbeaten run and 9-straight away win in all competitions.
The history between these 2 clubs is as old as time itself and became even more fierce in the 90s during Sir Alex Ferguson and "the Professor", Arsene Wenger time as United and Arsenal managers respectively. United holds the advantage over the Gunners on the head-to-head stat as shown, but it was Arsenal who took a 1st half lead when United goalkeeper, De Gea misjudged Granit Xhaka's 25-yard swerving shot in the 1st half, and then double their lead with a 2nd-half spot-kick from Aubemayang. There were injury scares for Arsenal when Sead Kolasinac and Laurent Koscielny were attended to. United might felt undone by luck as they hit the woodwork twice, firstly, Lukaku hit the crossbar, then, Fred hit the side post, and had more shot on target than the Gunners, as the stat suggested, but Que sera sera.
Arsenal sure getting the most out of Aaron Ramsey ahead of his summer exit, the Juventus-bound ace had another good match, a man of the match display by the Welsh man that saw him won 8 tackles – most in match, won 12 duels – most in match and covered most ground, 12.7km – most in match, He is vital for Arsenal's UEFA Champions League place push. Arsenal's home form also playing a pivotal role, 9 wins out of their last 9 home matches was a massive improvement to last season's home form.
---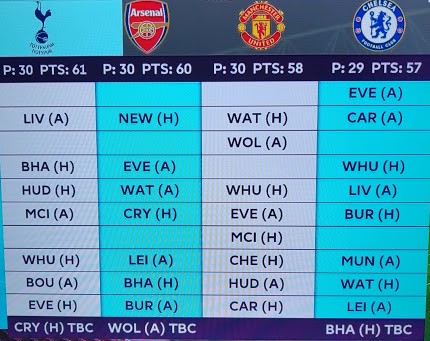 With 8 matches to go, there is no clear cut favourite for the UCL remaining 2 places, either of these 4 clubs can stake a claim. Fixtures above show the run-in for the 4 clubs in question, points will be dropped no doubt, and if Spurs poor form continues, it looks like she might not make it.
Image 1, and for more stat see link
You can find this blog on my other accounts with same ID
Thank you all for your time.