Age is not the issue, there are many so called leaders whom are much younger which should be replaced.  She had the audacity to call herself a 'legislative virtuoso'.  She told Rolling Stone that calls for someone younger to lead the democrats after the midterm was a sexist remark.  This shows how out of touch this person is, her sex is not at issue.
It is obvious that she has no clue on how her physical condition is affecting everything from her ability to walk, talk and think.  There are several videos on her going into a catatonic state while speaking, forgetting name, failing to pronounce common words correctly and some time having problems walking.
Just the other day, during an interview she forgot the name of the senate majority leader.  Even when she was a bit more in control of her faculties, she told the members of the senate that in order to get the details of the ACA bill, they would have to pass it.  Is this appropriate leadership?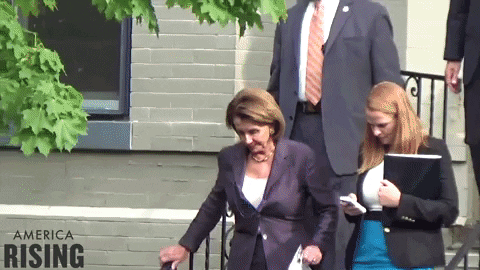 This gives even her supporter a cause for concern.  Can a person who doesn't have the capability to control their faculties be expected to perform their duties in a powerful position that requires acute thinking skills.