Spring has finally sprung here in Derbyshire, UK
I've managed to get out into our lovely cottage garden this afternoon to assess the potential damage caused by 'The Beast From The East' which hit us two weeks ago.
---
This adverse #weather forced many parts of the UK to a complete standstill on the Wednesday, and through to the weekend. Schools and businesses had to close and some shops even ran out of supplies for the rest of that week. Now, for those of you used to 10-12 inches 0r 30cm #snow during winter, maybe laughing at this amusing anecodte, but we're just not geared up for that kind of freakish weather here! It absolutely battered our little rural village, with 2 foot snow drifts, which was overly exagerrated by the 80mph winds which caused face melting blizzard like conditions. We're a few miles from the nearest main travel route, but Luckily, the snow plough arrived early on the Saturday morning to clear our lane. The garden has survived surprisingly well considering we had some -6c thermometer readings for 5 consecutive days. A few of my outdoor bonsai and some bulbs have perished, and I can live with that. All is good in my horticulture world and I look forward to many more green fingered evenings this#spring and #summer, if I can drag myself away from #Steemit and#Discord for long enough!
---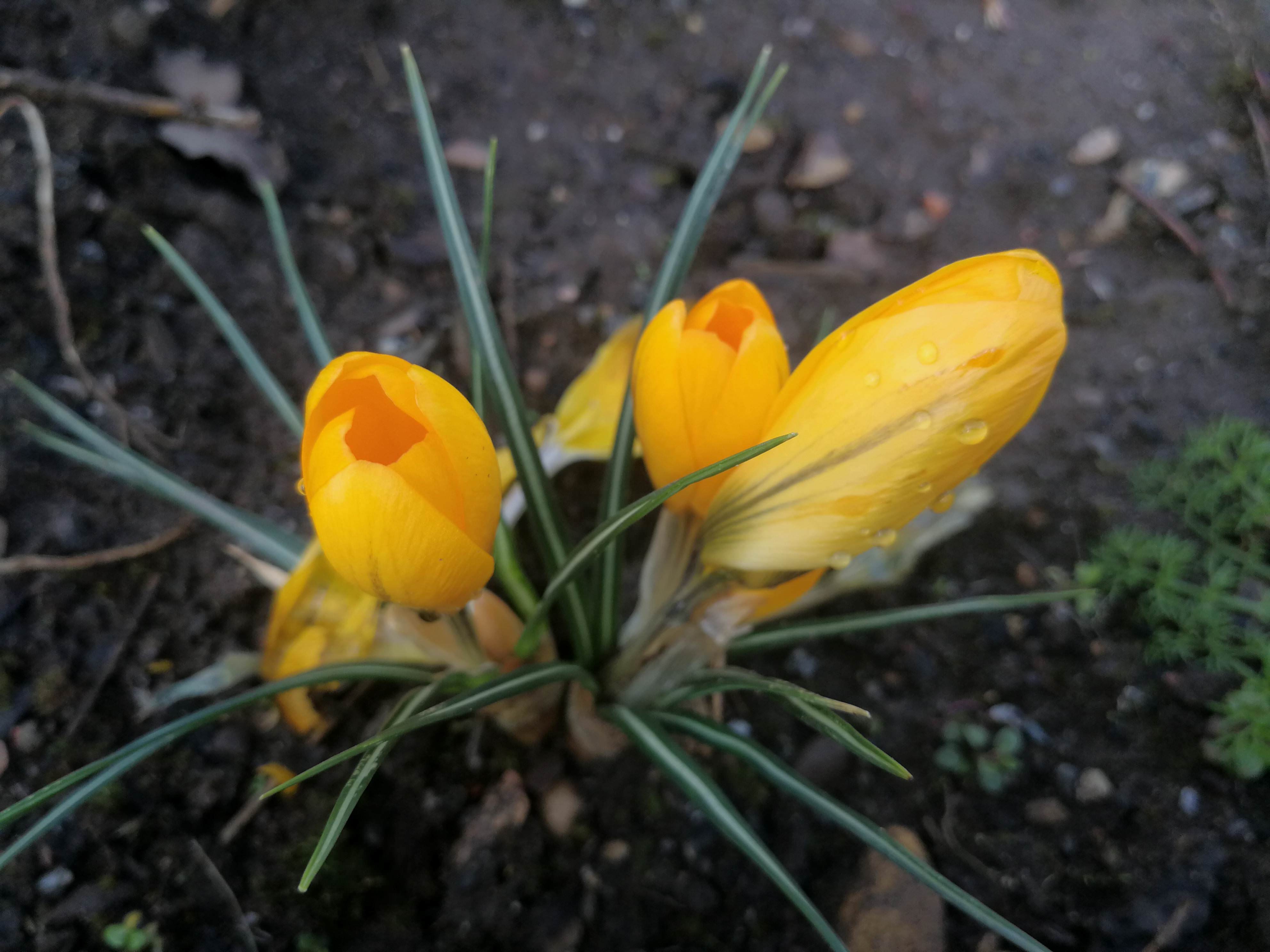 The Crocus is one of my favourite first blossoms in spring.
---
Permaculture has been on my mind recently and I'm finding more and more ways to embrace frugalism and sustainibilty. Composting old fruit and veg and recycling everyday items to use around the garden, have been on my list of priorities last year and going forward ito this growing season.
---
I now grow our strawberries in these re-purposed nylon builders bags, which are great for keeping those hungry ground dwelling creatures from gorging on these sweet fructose rich fruits!
What is Permaculture?
I was really intrigued about this way of living, after talking to my fellow horticulture friend Huw Richards of @huwsnursery – We met after talking about me writing some instrumental music for his YouTube videos, and how gardening and growning your own food is such an inteseting and rewarding way of life.
Huw has an extensive knowledge of homesteading and permaculture, which you can learn from his very popular YouTube Channel 
But I wanted to know more, so I set about everyones favourite search tool#Google and found a website dedicated to this sustainable way of living.
Here's some info from the home page of their website –https://www.permaculture.co.uk/what-is-permaculture
Permaculture is an innovative framework for creating sustainable ways of living. It is a practical method of developing ecologically harmonious, efficient and productive systems that can be used by anyone, anywhere.
By thinking carefully about the way we use our resources – food, energy, shelter and other material and non-material needs – it is possible to get much more out of life by using less. We can be more productive for less effort, reaping benefits for our environment and ourselves, for now and for generations to come.
This is the essence of permaculture – the design of an ecologically sound way of living – in our households, gardens, communities and businesses. It is created by cooperating with nature and caring for the earth and its people.
Permaculture is not exclusive – its principles and practice can be used by anyone, anywhere:
City flats, yards and window boxes
Suburban and country houses/gardens
Allotments and smallholdings
Community spaces
Farms and estates
Countryside and conservation areas
Commercial and industrial premises
Educational establishments
---
Really interesting reading I'm sure you'll agree. I recommend you visit Huw's channel and the website I mentioned, as they have so many amazing ideas for us all to try, however large or small, or rural/urban your area is. There's no excuse not to grow something of your own, to then enjoy natures bounty for yourself.
---
---
Our composter full to the brim ready for our wrigglers to do their magic!
---
New seedlings grown from last years Naga and Birds eye chili fruit,s that I cultivated in our poly-tunnel.
---
Parsnip seedlings are doing very well under cover too – They tend to be quite a tricky crop to cultivate and car for.
---
Spring onions benefit from an early sowing under cover – These were sown early January to be transplanted outside after the last frost.
---
I went all exotic last year and bought some banana seeds online to try at home.
This variety of banana is 'Musa balbisiana' and was sown last February. The fruit are between a blue and green colour and are considered inedible because of the seeds they contain. I did read that agriculturists must of cooked and eaten these centuries ago to establish how to modify the heavily cultivated varities we consume today. As you can see, it's doing really well so far, much to my good lady's delight of my plants being spread all over the house on any empty windowsill available.
---
Rhubarb is one our summer favourites and is so easy to grow, as nothing seems to like to eat it! I make a crumble from it by chopping the stalks into chunks and covering with the mixture which is made from flour, sugar and butter –
Recipe courtesy of BBC Good Food
THICK VANILLA CUSTARD
Heat 600ml double cream until steaming but not boiling. Meanwhile, mix together 6 egg yolks, 4 tbsp caster sugar, 2 tsp cornflour and ½ tsp vanilla extract in a bowl. Pour the cream onto the eggs, stirring continuously as you pour. Pour the whole lot back into the saucepan the cream came from and place over a medium heat. Stir until it thickens, about 10 mins, then pass through a sieve and serve.
source
---
Another successful trial was to grow one of my favourite fruits, Nectarines! I sowed this seed last March which I got from a fruit that I ate.
you have to carefully crack open the stone to reveal the slim oval shaped seed inside.
I didn't do anything special to it either, but did purchase a heated propagator for £30 online which has been an amazing investment. It germinates seeds very quickly by keeping them at a constant 21c.
---
---
Our cottage was built in the 1850s of Early Victorian England and some of the plants have probably been in the ground a lon long time. This is my favourite sash window which looks kind of bare at the moment as we're just coming out of winter. I'll try and grow a grapvine each side on the trellis this year. It's sheltered and get's lots of sun too as we have a south facing garden.
---
The Pansies I sowed in November are now budding nicely.
---
I also love to upcycle wood, so I made this nesting box. I've seen some interested birds hanging around in the tree opposite so they'll hopefull be moving in soon!
I hope you enjoyed my first indepth gardening post and liked the Rhubarb crumble recipe too!
Let's get out in our gardens, rooftop spaces and kitchens and grow some food! It's fun and good for the soul!
Many thanks
Mr Bloom
---
Yes, I made this chair too!