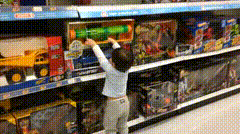 Source: giphy.com
After 6 decades, Toys R Us is closing all its US stores. They filed for bankruptcy about 6 months ago as they tried to pay down around $8 billion of debt. They were not successful in finding a suitor and it is reported that they stopped paying their suppliers. They also announced that they are planning on closing all their UK stores. A bid was made on their Canadian stores.
MGA Entertainment bid on the Toys R Us as well as as many as 400 of the US stores. In the bankruptcy file of September, Toys R Us owes MGA $21.3 million.
Toys R Us based in Wayne, NJ has been struggling for years to control their billions of debt. It has been a uphill battle due to competitors like Amazon, Walmart and Target. Toys R Us has been unable to find the right chemistry in order to draw in the customers that they did when the chain first started. In its hey day, they had a flagship store in New York's Times Square. This store is now housing an Old Navy.
It's a shame to see an iconic store fail but it is a sign of the times.
Source: sfgate.com